Report from the Tech Field Trip in the Guangdong-Hong Kong-Macau Greater Bay Area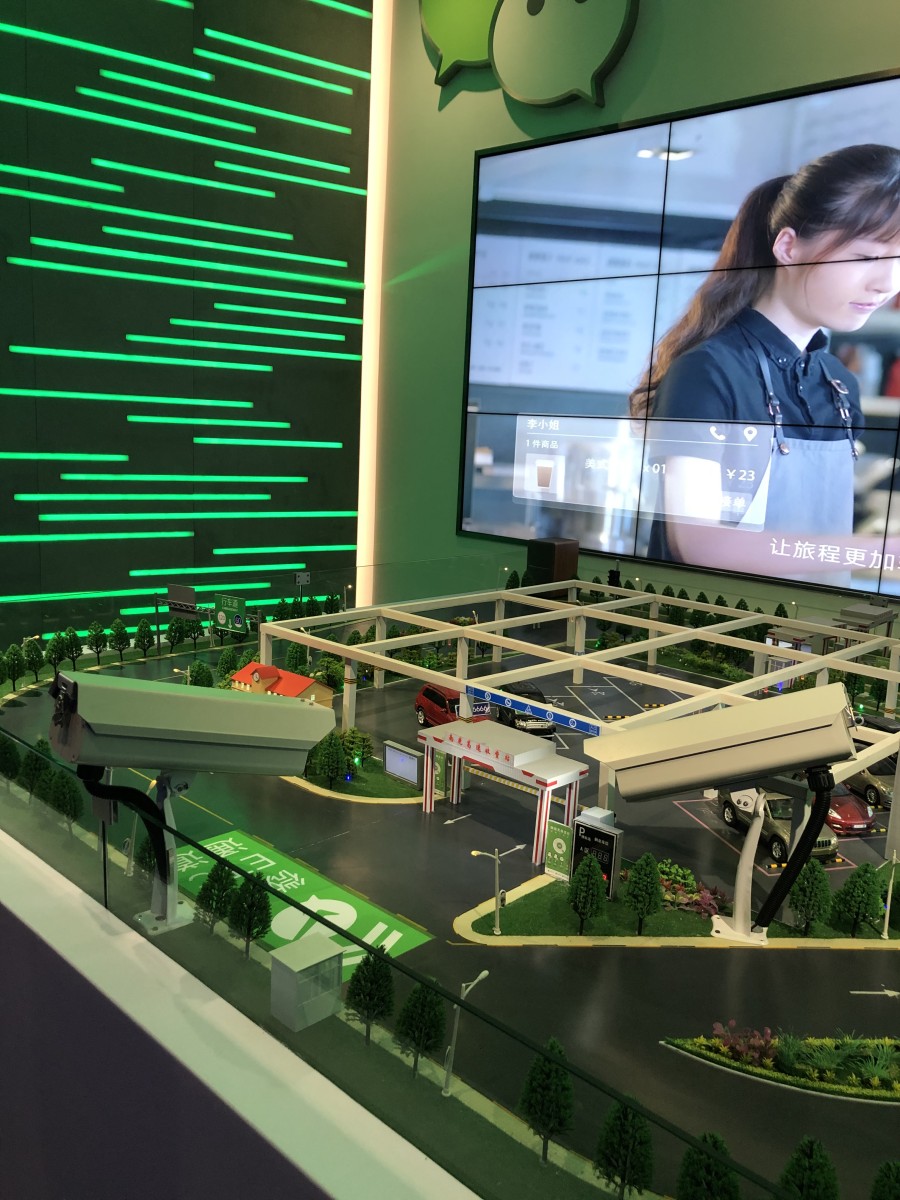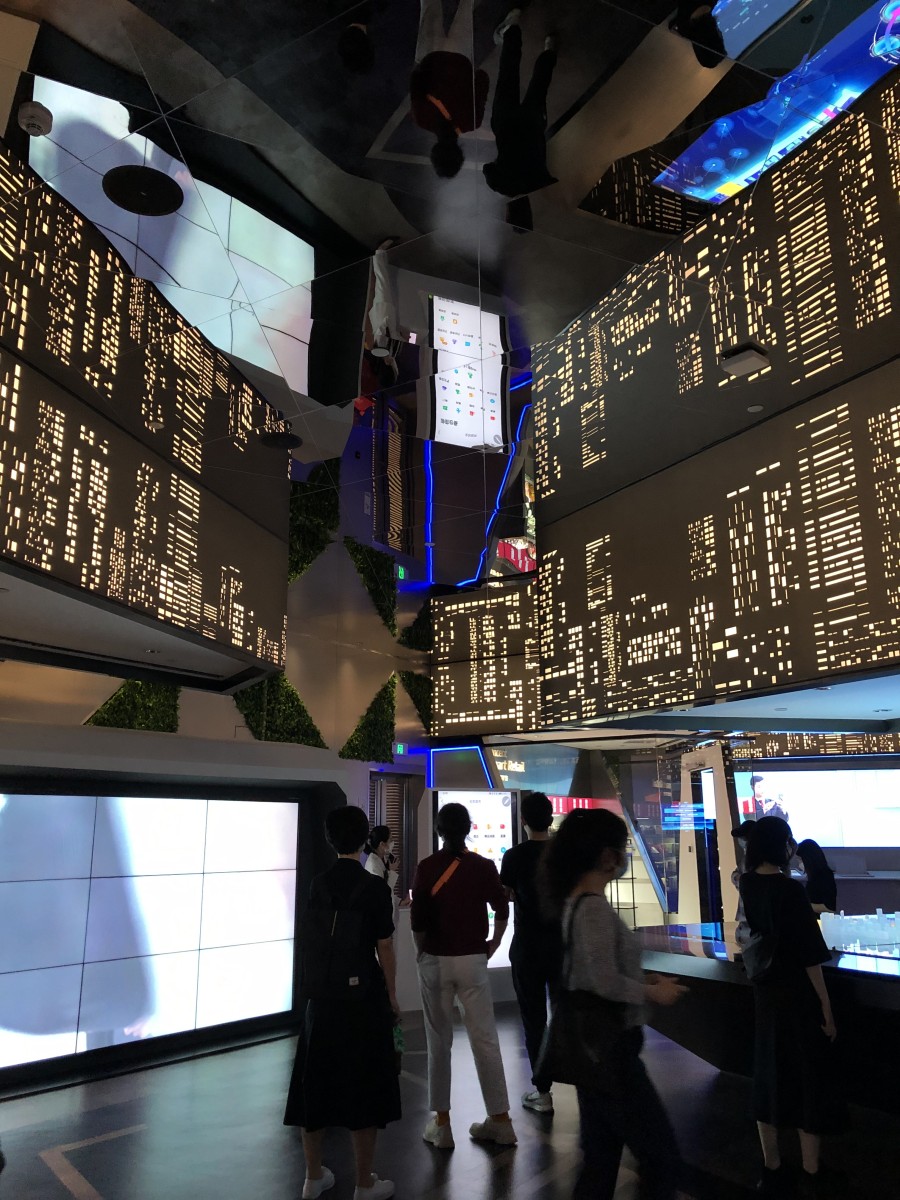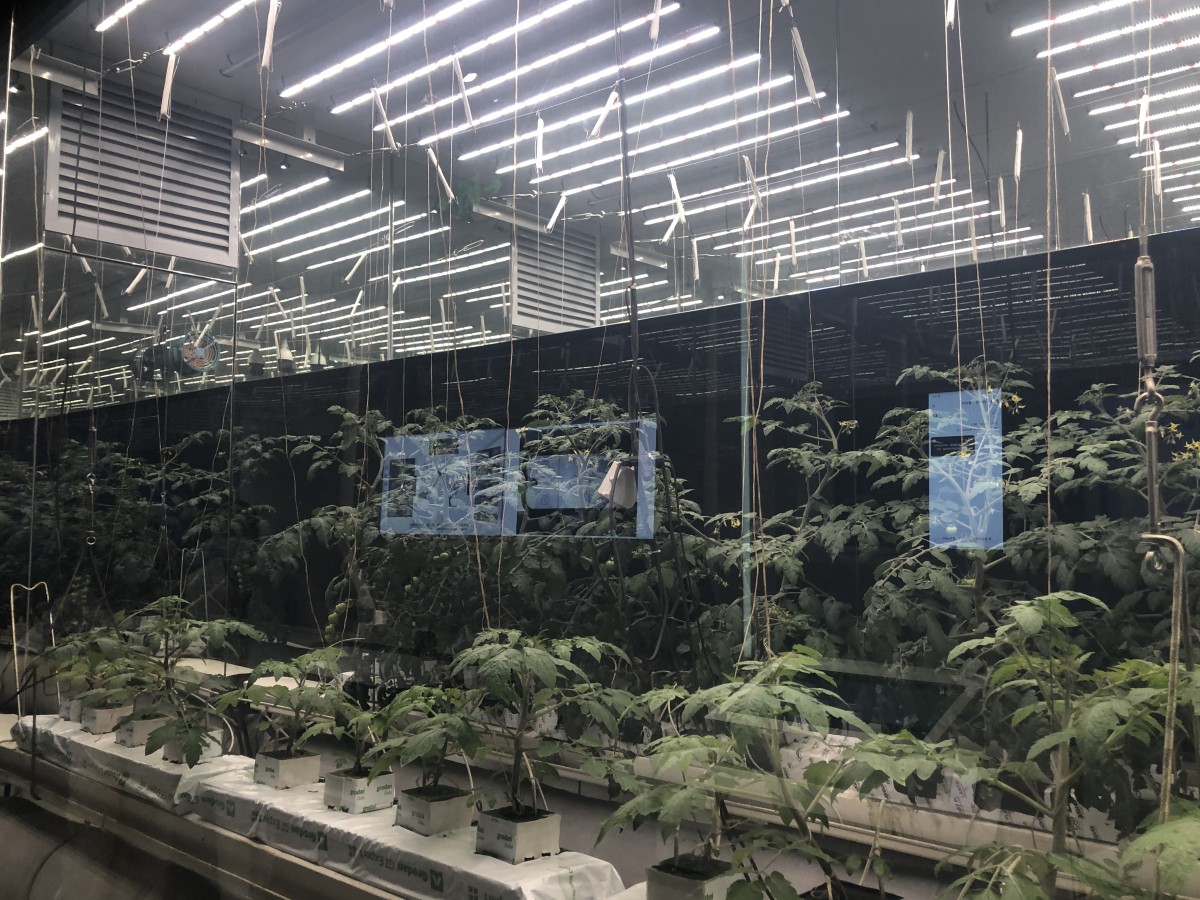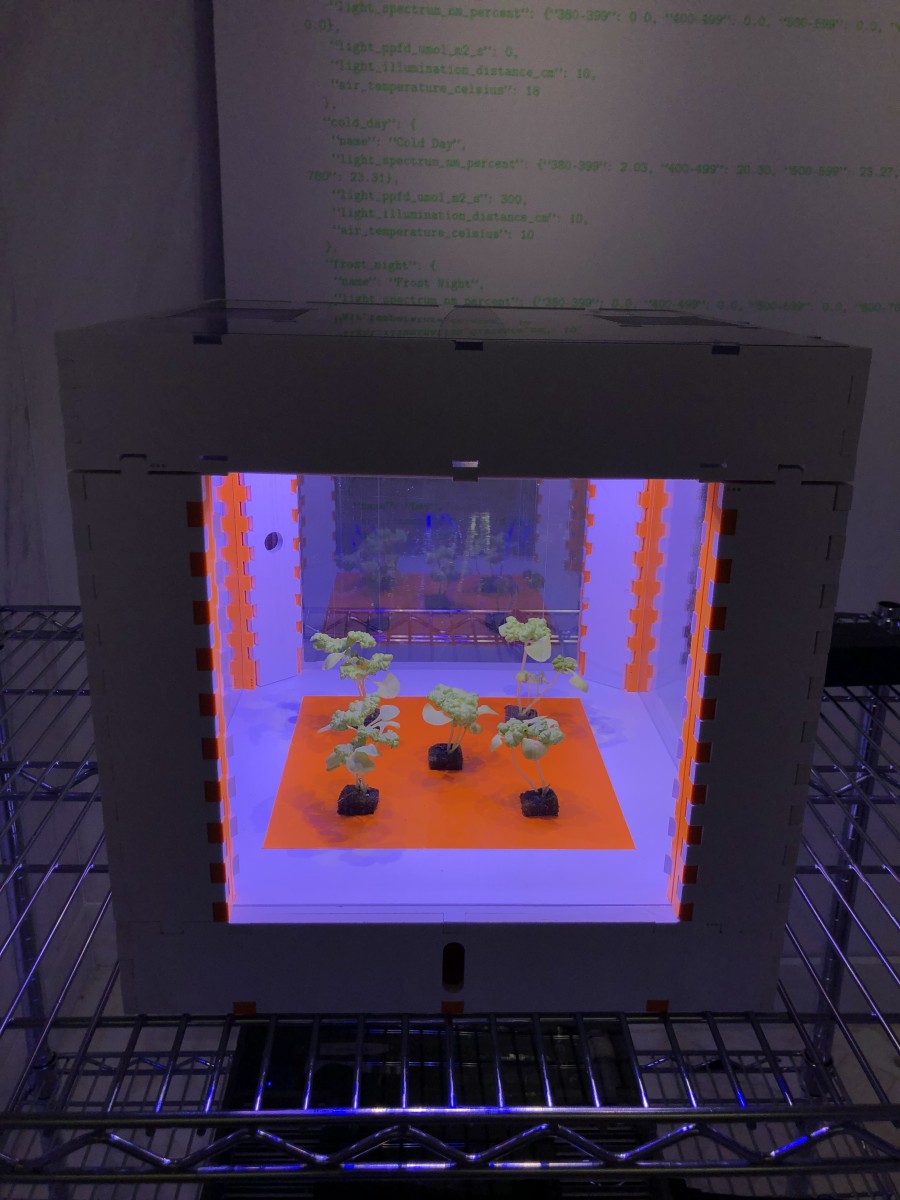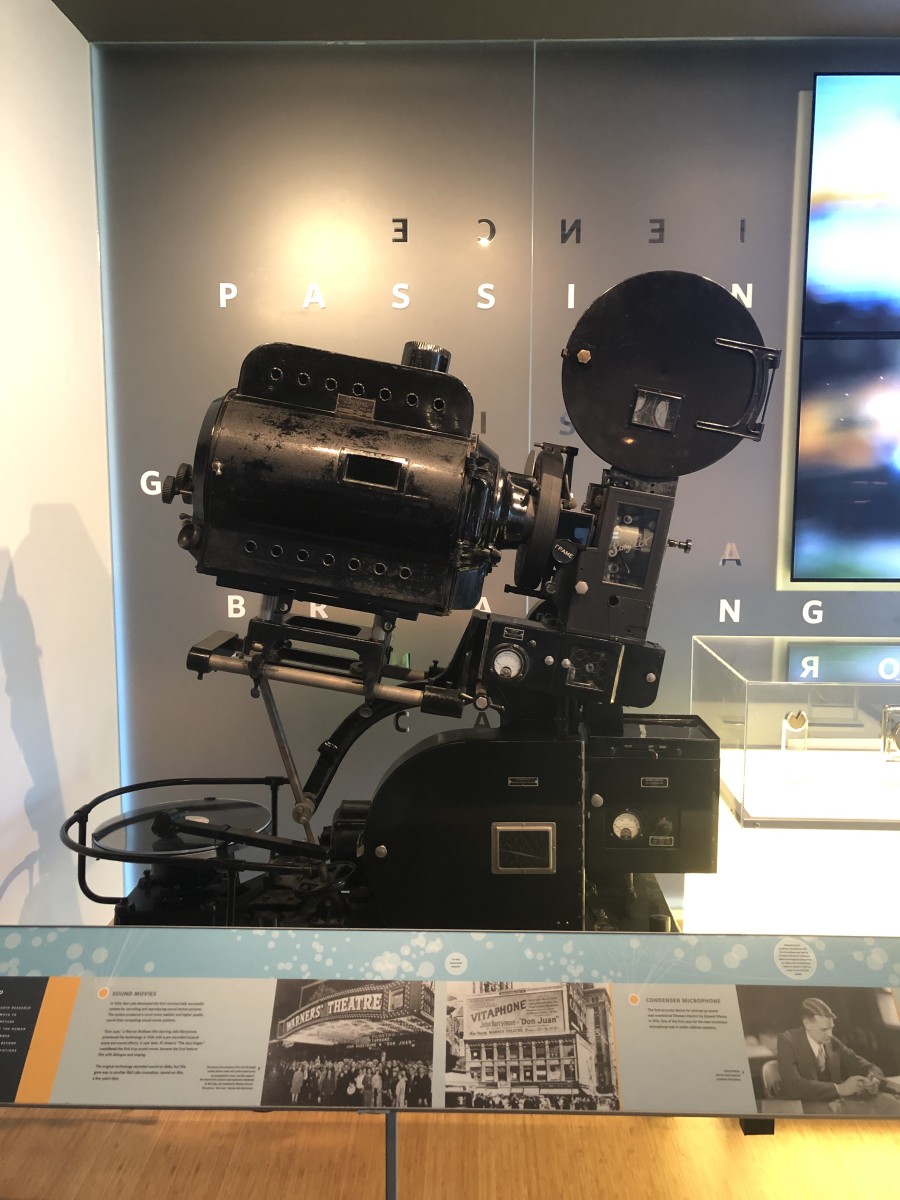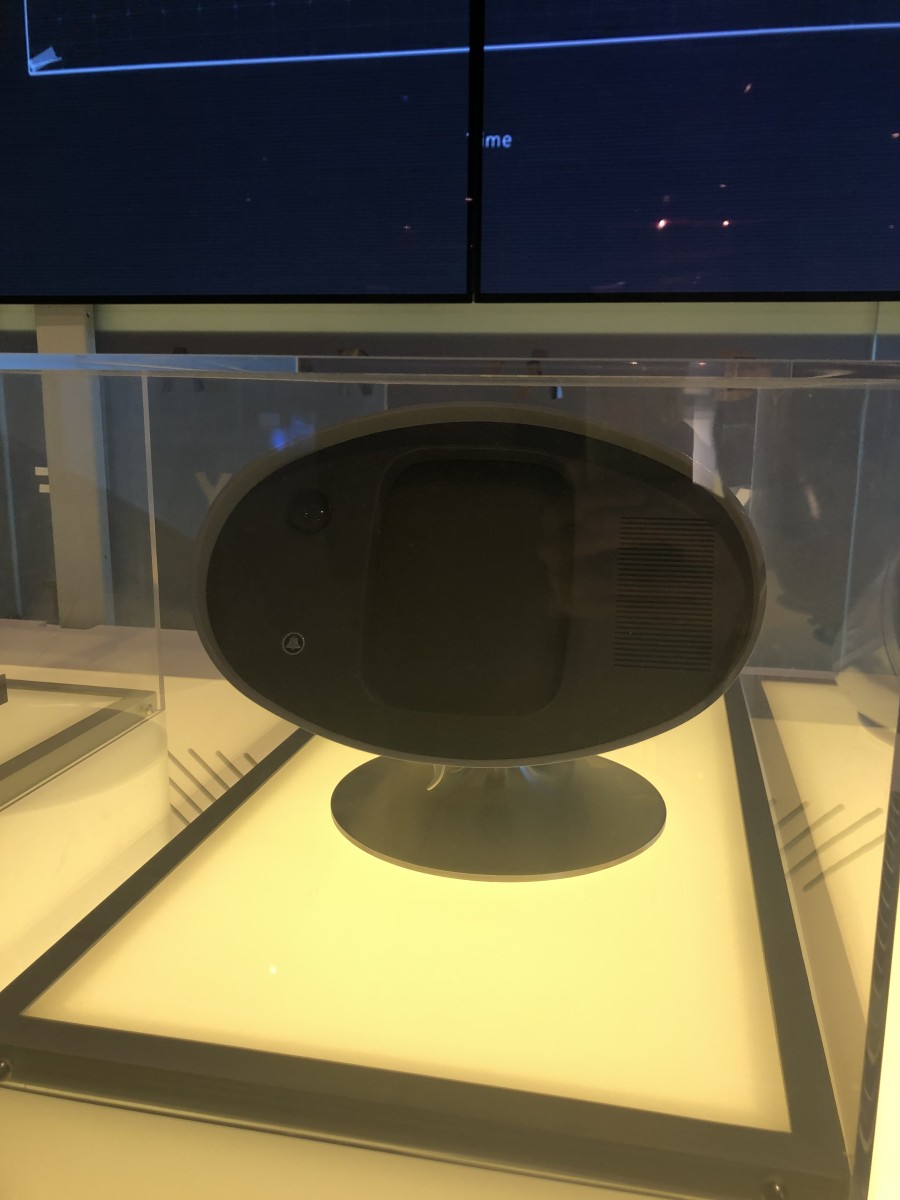 1 Oversized Surveillance Cameras
Over the last few years, I have been interested in surveillance capitalism 1 , filter bubbles 2 , algorithmic bias, and other concepts and phenomena closely related to what large internet companies "produce." For example, in my 2019 project A Woman with the Technology, I used 100 days of online activity data from all of my social media platforms to train an AI chat bot. I built a series of works around the conversations between "me" (to an extent, this is what the social media algorithm believes "me" to be or has constructed "me" as) and the AI chat bot, in order to study the ways in which these algorithms make personal experience more extreme by constantly fine-tuning a filter bubble. As a result, when I entered these company buildings, I felt in that moment that my body had been digitized. Watching the people entering and exiting the company, I had the vague sense that everyone was moving digitally.
After the formal visit began, there were a lot of specific spaces that left a deep impression on me. For example, one of the spaces introduced a digital payment function, in which your car's license plate was scanned. You didn't need to do anything else; the payment was made immediately. This wasn't really a new technology; I had previously seen advertisements for this. In this model, I couldn't take my eyes off of the two massive surveillance cameras, which were out of proportion to the other objects in the space. Because these spaces were used to show the company's most notable "achievements," the massive surveillance cameras were intended to be positive images, giving people the feeling of safety and convenience. I don't know if this is the consensus in these companies or in society, or perhaps, through constant repetition (regardless of whether it is accurate), objects that should inspire significant fear and caution have been reconstructed as our "assistants."
2 Personal Food Computer
The space in Figure 3 comes from the same company, but due to time constraints, I wasn't able to hear much about its concept or function. In form, it was reminiscent of the Personal Food Computers 3 designed by the MIT Media Lab's Open Agriculture Initiative for the design triennial at the Cooper Hewitt Design Museum in 2019. It pairs "controlled-environment agriculture with open-source data sharing. […] Users control conditions in the growth chamber, developing and sharing 'climate recipes' to optimize growth conditions." The Personal Food Computer "can then be programmed to run a climate recipe, allowing users around the world to grow plants to their preferences."
One of the things I felt most intensely during this visit was that nearly all of the objects, inventions, applications, and devices that we saw in this process could become very interesting art projects if they were to undergo a conceptual transformation in collaboration with an engineer—this is my greatest hope as a creator.
3 New Infrastructure and Neo-Colonialism
In the course of visiting another company, our guide explained to us the company's infrastructure and training programs in Africa. The company's efforts had benefitted 13 Kenyan villages, offering over 22,000 hours of training to more than 1,300 people. I couldn't help but think of the long-standing controversies around the large New Infrastructure projects that China had undertaken in Africa and Western countries' critiques of China's neo-colonialism. (I have also had Nigerian and Kenyan friends strongly express grave concerns about neo-colonialism.) Faced with such a complex issue, I thought of Dutch artist Renzo Martens' project Enjoy Poverty in the Democratic Republic of Congo. He attempted to teach Congolese photographers to capture images of war, poverty, and disaster in their country to sell to Western audiences. By transforming pictures of poverty and misery into a way of making money, the photographers could profit from the commodification and mythologization of local people's pain. I still remember everyone's confusion when I showed students this project (I was teaching at the Minneapolis College of Art and Design at the time). Maybe it still confuses me; although I clearly knew that he was fundamentally incorrect, I don't know where I connected that program with this visit.
4 Comparing the Development of Chinese and American Tech Firms (Thanks to Jianru for sharing this perspective)
As a participant in the Experiments in Art Technology (E.A.T.) from NEW INC at the New Museum last year, I was fortunate to be part of a commission by NEW INC, Rhizome, and Bell Labs. I collaborated with the Lab's engineers in creating the online live-simulation Networked Ecosystem 4 . Because of this project, my collaborators and I were able to visit Bell Labs multiple times, and the engineers showed us important technological advances that the Lab produced, such as the first model of a video phone, as well as many new technologies that were currently being researched.
Our visit to Bell Labs had many interesting similarities to one of the companies on this trip (which I'll call "Company A"), such as the mechanical arms and robotic trucks that arranged transportation and installation, or the latest 5G R&D and applications. There are countless connections between the two companies. Company A has become a deserving leader in the global communications industry, which can largely be attributed to the American telecommunications bubble and the decline of Bell Labs.
Once a research lab for AT&T, America's largest telecommunications company, Bell Labs has nearly one hundred years of history, and it once controlled much of the global tech sphere: mobile phones, transistors, Unix, C programming language, lasers, communication satellites, optical fibers, and digital exchanges. Bell Labs was also the first to build Massive MIMO technology. Today, it is one of the two major technologies that underpin 5G.
The year before the MIMO test system was built, the founder of Company A made a pilgrimage to Bell Labs, located in Murray Hill, New Jersey. Standing at the work station where John Bardeen invented transistors about fifty years ago, the 53-year-old entrepreneur said, "When I was young, I admired Bell Labs very much, and my admiration surpassed love." After returning from Bell Labs, he led Company A in pursuing more radical technologies.
In the 1980s, AT&T grew to become the world's largest telecommunications carrier, monopolizing more than 80% of America's telephone service. In 1984, due to anti-monopoly pressure from the Reagan administration, AT&T split into seven distinct regional companies. Most of AT&T Technologies, with the addition of Bell Labs, was established as Lucent, which greatly impacted Bell's revenue. Despite this, Bell Labs started researching 5G in 2009, around the same time as Company A. One year later, Thomas L. Marzetta, one of their engineers, originated Massive MIMO, a technology central to 5G.
Unlike Bell Labs, Alcatel-Lucent, the merger of Lucent and French company Alcatel, did not have a lot of interest in 5G. In stark contrast to Alcatel-Lucent, Company A spent 2014 pouring money into building nine 5G Innovation Centers around the world. At the same time, though disappointed with its performance in the mobile phone market, Nokia was not resigned to failure. The company prepared to embark upon a series of acquisitions in the global telecommunications equipment industry, announcing that it wanted to become "the Western alternative to Company A." Europe-based Alcatel-Lucent quickly became a target for Nokia.
That same year, after the American government had successfully used the Foreign Corrupt Practices Act and other legal measures against Alstom, General Electric was finally able to purchase the French company. This put the French government on guard against the purchase of Alcatel-Lucent. Frédéric Pierucci's The American Trap offers a complete explanation of the Alstom acquisition. Interestingly, The American Trap was also the book mentioned most often as we visited Company A. Copies were placed on racks near the door for visitors to take home with them. Company A's employees also explained to us how the American government used legal weapons to persecute, crush, or acquire foreign companies.
Returning to Nokia's acquisition of Alcatel-Lucent: In order to gain the trust of the French government, Nokia promised to retain all of Alcatel-Lucent's French jobs. More importantly, its Global 5G Research and Development Center would be located in Paris, and not at the Bell Labs site in the United States.
Nokia, having acquired Alcatel-Lucent, surpassed Ericsson and became the world's second-largest telecommunications equipment producer behind Company A. However, it had originally wanted to make great strides in 5G R&D, and even outpace Company A, but because of this seemingly careless decision, Company A still has a firm grasp on its position 5
Looking back on this storied history and understanding the context of the 5G-centric trade war between China and the United States, I felt very fortunate to have experienced this field trip with Company A and to have worked closely with Bell Labs as an observer and a creator.
[1] Surveillance capitalism is an economic system centered around the commodification of personal data with the core purpose of profit-making. Surveillance capitalism claims our private experience as its source of free raw material and translates that raw material into behavioral data. Behavioral data is all the data that flows through social media, websites, apps, the companies you're online with, or on your phone, or as you walk through the city, or go to work or drive your car, etc. Then that behavioral data is immediately re-conceptualized as its private property: it computes it, turns it into private predictions of our behavior then sells those predictions (Wikipedia)
[2] A filter bubble is a term coined by the Internet activist Eli Pariser to refer to a state of intellectual isolation that can result from personalized searches when a website algorithm selectively guesses what information a user would like to see based on information about the user, such as location, past click-behavior and search history. As a result, users become separated from information that disagrees with their viewpoints, effectively isolating them in their own cultural or ideological bubbles. (Wikipedia)
[4] Networked Ecosystem, a collaboration with Mark Ramos, is a live-simulation environment that presents an ecosystem built of a variety of digital senses. Commissioned by NEW INC at the New Museum, Rhizome and Nokia Bell Labs, Networked Ecosystem takes machine vision and sensing data collected by Bell Lab's experimental robots and sensors and repurposes it to drive a 3D environmental simulation.

In Networked Ecosystem, natural phenomena have been replaced by digital and artificial systems as forces that drive development: Electricity/battery = sustenance, WIFI signals = nutrition, Lidar data = fire/heat. Data organisms populate this digital ecosystem as native life forms in the form of bots, AIs, and avatars. Visitors to this networked landscape develop new kinds of digital senses to experience data as environmental changes, and interact with the simulated world and each other in an ever-changing online environment. Link to play Networked Ecosystem (view link)
Ziyang Wu is an artist based in New York and Beijing, currently teaching at the School of Visual Arts and New York University's Tisch School of the Arts, and is a member of New Museum's art and technology incubator NEW INC. With an MFA from the Rhode Island School of Design, and a BFA from the Florence Academy of Fine Arts, his works have been exhibited internationally, including at the Institute of Contemporary Art (ICA) in Philadelphia, Rhizome at the New Museum in New York, Walker Art Center and Rochester Art Center in Minnesota, Academy Art Museum in Maryland, Medici Palace in Florence, Milan Design Week and Today Art Museum in Beijing.